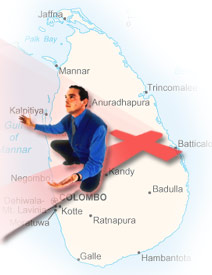 A January 23 report from the National Christian Evangelical Alliance of Sri Lanka outlined three separate incidents of persecution against Sri Lanka's Christian community since the beginning of 2006.
On January 1, the King's Revival Church in Alawwa was subjected to verbal threats and abusive language as the pastor and a small group of Christians gathered for Sunday worship.
On the evening of January 21, a mob of approximately twenty men armed with sticks walked into the home of an Assembly of God pastor in Alpitiya. Only the pastor's wife and her three small children were at home at the time. The mob demanded that the pastor stop all Christian activity. They then overturned much of the furniture before leaving. The worship service was held the next day as scheduled, but with police protection.
Following the worship service on January 22, a mob of approximately 500 militant Buddhists surrounded the fifty worshippers of the Assembly of God Church in Bolaththa, Ganemulla and demanded that they stop holding services. The militants threatened to return the next Sunday if services continued. Early the next morning, the pastor's house was also stoned. Windows were damaged in the attack.
Pray that these threats and attacks in Sri Lanka will not cast a shadow of fear over the country's believers. Pray that they will be able to continue to corporately enjoy the presence of their Saviour without fear of those who can only destroy the body (Matthew 10:28).
For more information on the persecution facing Sri Lankan Christians click here. Video reports on Sri Lanka can be viewed on www.vomcanada.com.