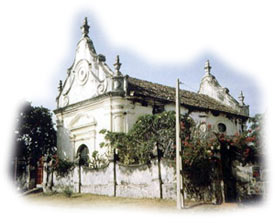 The Dutch Reformed Church in Galle (the Groote Kerk)
was originally constructed in 1640 and is one of
the oldest churches in the country.
On the morning of February 6, a man came to the Dutch Reformed Church in Galle, Sri Lanka looking for the pastor. The pastor was not there at the time, but the man spoke to the caretaker and the pastor's wife. The man threatened to cut off the pastor's limbs and kill him if he ever visited the Hikkaduwa area again. He then left after making derogatory statements against Jesus Christ and Christians. Previous threatening letters against the pastor had also been received last month by Christians in the village of Werellana in Hikkaduwa.
According to the National Christian Evangelical Alliance of Sri Lanka (NCEASL), information has been received that anti-Christian groups in the Galle area have made a list of prominent Christian pastors and could suggest the beginning of an organized plot to unleash a wider circle of violence.
Pray for every name on the list of potential targets. Ask the Lord to surround them with a wall of protection and to give them the strength to carry out the Great Commission without fear of what man might do. Pray especially that the Lord would protect the pastor of the Dutch Reformed Church and his wife.
For more information on the persecution of Christians in Sri Lanka, click here. Video reports from Sri Lanka are available on www.vomcanada.com.