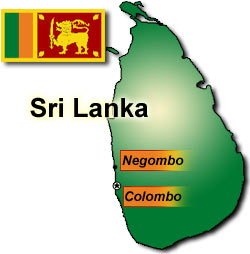 A pastor of the Gospel Missionary Church in the town of Vavuniya and three other men have been missing since March 2, according to a March 6 report from the National Christian Evangelical Alliance of Sri Lanka (NCEASL). Pastor Victor Emmanuel Yogarajan (51) disappeared while on a trip to Colombo with his two sons, Daniel (22) and David (20), and other young man, Joseph Sugandakumar (20). All four of them were last seen leaving a house in Negombo for a bus stop, assumedly en route to Colombo.
The deaths and disappearances of Sri Lankan church leaders have been increasing at an alarming rate following the renewed outbreak of civil war between the Sri Lankan government and the Liberation Tigers of Tamil Eelam. (For more information on this disturbing persecution trend visit our weblog).
Ask God to bring His peace to this troubled country. Pray for the protection of Sri Lankan Christians as they lovingly and boldly proclaim the gospel (Ephesians 6:18-20). Pray that those who persecute will come to repentance and see the truth and mercy of the Lord.
For more information on persecution facing Christians in Sri Lanka, click here.