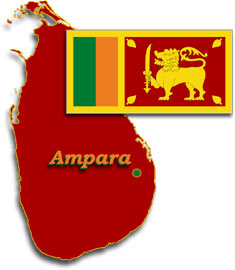 Pastor Neil Edirisinghe (37) of the House Church Foundation was gunned down by two assailants outside his house in Ampara, Sri Lanka on February 17, according to a report from the National Christian Evangelical Alliance of Sri Lanka (NCEASL). Pastor Edirisinghe was engaged in the Lord's ministry in Ampara for many years. The attackers also shot his wife Shiromi (31) in the stomach. At last report, she was in the hospital in critical condition. Their two-year-old son who received a minor injury in the attack is also suffering from trauma. Information received by NCEASL indicated that the murder of the pastor was a contract killing done by people angry with his gospel ministry, which had led to the conversion of a prominent local person. The police have arrested four people, including two members of an auxiliary force and a businessman, in connection with the murder.
Pray for the Lord's peace and comfort for Pastor Edirisinghe's family (2 Cor. 1:4-7). Pray for the recovery of his wife and child. Pray that they will know the Lord as their Father.
For more information on the persecution of Christians in Sri Lanka, go to the Sri Lanka Country Report.