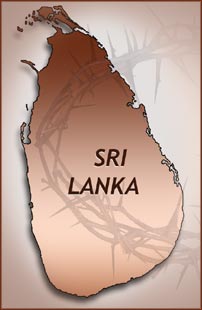 Several Christians were beaten and threatened in Sri Lanka in recent weeks, according to a March 4 report from the National Christian Evangelical Alliance of Sri Lanka.
On February 17, a mob of approximately 50 people armed with rods attacked members of The King's Revival Church in the district of Mathugama, Kaluthara while they were returning from a Sunday worship service. Four believers were assaulted, including a child. The assailants also threatened the believers who belonged to the Tamil ethnic community that they would be imprisoned if they returned to the church. A week later, on February 24, group of individuals armed with gardening tools gathered on the road near the church building. They threatened the believers with violence and prevented them from attending the scheduled worship service.
On March 2, ten students were beaten by a group of masked men on motorcycles while they were walking from the Lunuwila Railway to their school, the Believers' Church Bible College in Putlam District. Then more attackers arrived in a van and dragged a student inside the vehicle and severely beat him. When one of the students ran to the college for help, he was followed by a motorcyclist who attacked the college security guard and fled.
Pray that as persecution increases in Sri Lanka, believers will find strength in Christ (2 Corinthians 1:5). Pray that persecutors throughout Sri Lanka will be challenged by the consistent testimony of Christ's followers and be drawn to Him.
For more information on the persecution of Christians in Sri Lanka, go to the Sri Lanka Country Report.