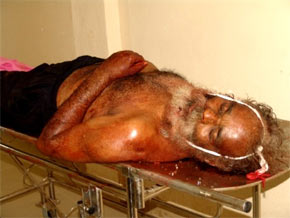 Father M.X. Karunaratnam
Photo from TamilEelam News Services
Father M.X. Karunaratnam, the Chairman of the North East Secretariat on Human Rights in Sri Lanka, was killed in a claymore mine attack in the region of Vanni, near the Kushanthai Jesus Church, at approximately 12:30 p.m. on April 20, according to an April 29 report from the National Christian Evangelical Alliance of Sri Lanka. Father Karunaratnam frequently spoke on behalf of human rights of the civilian population in the northeast of the country, and also provided counseling to those affected by the civil war and the Tsunami.
Pray that those who mourn for Father Karunaratnam will find strength, comfort and peace in Christ. Ask God to raise up other servants of the Gospel to continue His work in Sri Lanka (Matthew 9:38).
For more information on the persecution of Christians in Sri Lanka, go to the Sri Lanka Country Report.