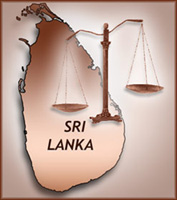 VOMC was pleased to learn that the debate on a religious-conversion bill in Sri Lanka's parliament (read the story) has been deferred amid opposition from Christians. According to UCANews, a parliamentary committee comprised of Christian parliamentarians and leaders of political parties examined the bill on February 18 and agreed that it could have serious consequences on religious activities, spark interreligious conflict and possibly violate the country's constitution.
Pandu Bandaranayake, the Minister of Religious Affairs, confirmed Christians have called for more clarity on some words in the bill and so, despite opposition from the Buddhist-led party, Jathika Hela Urumaya (JHU), the bill will be re-examined by the Ministry's religious consultative committee.
Continue to pray for Christians in Sri Lanka, as it is believed that this relief will be only temporary and that there will be considerable pressure by the JHU to bring back the bill virtually unchanged for debate.
The March edition of The Voice of the Martyrs Newsletter has several articles featuring the persecution facing Christians in Sri Lanka. Subscribe to the Newsletter today. To learn more about the opposition facing Christians in Sri Lanka, click here.