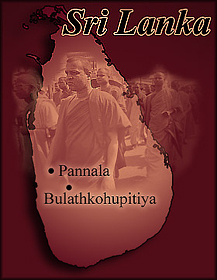 On March 25, a pastor and church worker were attacked by a man armed with a machete, according to a March 27 report from the National Christian Evangelical Alliance of Sri Lanka. The armed man barged into the Vineyard Community Church in the city of Pannala, North Western Province and slashed the men. Both believers sustained serious injuries. Local church members suspect the assailant previously burned the church's electricity meter and attacked the caretaker. At last report, no arrest had been made.
During the past three months, members of the Assembly of God church in the town of Bulathkohupitiya, Sabaragamuwa Province have faced threats and intimidation from local villagers and Buddhist monks. The congregation is also being monitored. A petition for the church's closure has reportedly been sent to the Ministry of Religious Affairs. As a result of the tension, many church members have been unable to meet together for worship.
Ask God to strengthen and heal those injured. Pray that suffering Christians in Sri Lanka will stand strong in faith and not give in to fear. Pray that their faithfulness will be a light that draws others to Jesus (Matthew 5:14-16).
For more information on the persecution of Christians in Sri Lanka, click here.