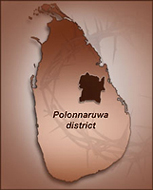 A pastor of a church in Polonnaruwa district, North Central Province was brutally attacked at approximately 10:30 p.m. on June 23, according to a recent report from the National Christian Evangelical Alliance of Sri Lanka. The pastor was driving home from a prayer meeting when a group of men on motorcycles called out to him. When he stopped his vehicle and rolled down his window, the assailants attacked him with knives. He was able to prevent them from slashing his neck but sustained severe arm injuries. His vehicle was also damaged. The pastor eventually fled the scene and sought help.
Pray for healing for the injured pastor. Ask God to bless the ministry of Christian workers spreading the Gospel in Sri Lanka amid opposition.
For more information on the challenges facing Sri Lanka's Christians, click here.