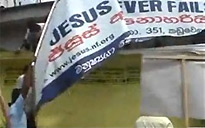 On the afternoon of November 5, approximately 200 members of the Buddhist-led party Jathika Hela Urumaya attacked the Jesus Never Fails Good News Centre in Koswatta, Sri Lanka. The attackers hurled stones at the building, damaging the exterior, windows, air conditioning units and gate. They also threatened to kill Pastor Joseph, accusing him of unethical conversions and demanding that he stop conducting healing services. The violence was in response to an October 31 open air healing service led by Pastor Joseph, after which two women died. A spokesman for the church said the women attended the service out of their own free will and later died in hospital. (Source: National Evangelical Alliance of Sri Lanka)
Pray for endurance of faith for victims of this attack. Ask the Lord to work in the hearts of those targeting Sri Lankan believers so that they will repent and come to faith in Him. Pray that Christians in Sri Lanka will continue to share the news of God's grace.
For commentary on this story and a video of the attack, click here. For more information on the challenges facing Sri Lanka's Christians, click here.