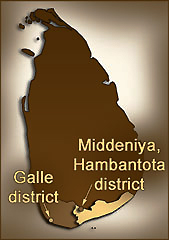 Two pastors were recently attacked in Southern Province, Sri Lanka. In early January, a man broke into the home of a pastor in Galle district. The pastor and his family came into the house to find the intruder inside. The man shouted threats at the pastor and began to assault him. Neighbours were alerted to the attack when they heard screaming. When the pastor's elderly landlord arrived, the intruder also attacked him. He then fled. The pastor and the landlord lodged a complaint with the local police against the attacker. He was arrested, but later released with a severe warning and only after he apologized to the pastor and the landlord.
Assailants also broke the windows of an Assemblies of God church building in the city of Middeniya, Hambantota district, on January 23. A complaint has reportedly been filed with local police. The pastor and his family, who were inside at the time of attack, were previously targeted in July 2008, when assailants set their house ablaze, following threats to him and his church (click here for more).
Pray God's enduring grace will drive out any fear in the hearts of these believers in the face of opposition. Pray they will stand firm in their faith, putting on the full armour of God and praying in the Spirit on all occasions (Ephesians 6:13-18). Pray their attackers will repent of their actions and place their faith in Jesus Christ. Pray Sri Lankan Christians will proclaim the love and truth of Christ with courage, wisdom and compassion.
You can learn more about the opposition facing Christians in Sri Lanka at the Sri Lanka Country Report.