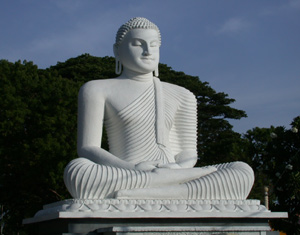 Pray that many Buddhists will come to know the Saviour.
A large mob, which included Buddhist monks, stormed into a church in southern Sri Lanka on Sunday, December 9th, causing serious damage to property and injuring the pastor. According to a preliminary report from the National Christian Evangelical Alliance of Sri Lanka (NCEASL), the raid took place during the Sunday morning meeting in Weeraketiya, Hambanthota, a district of Southern Province. Children were in the congregation during what is being described as a "distressing attack."
The pastor of the church was reportedly hit with a rock and, as a result, has been suffering with "severe pain in his lower abdomen." Others in the congregation were injured in the attack as well. The mob destroyed furniture and equipment inside the church, as well as vehicles that were parked outside belonging to church members.
NCEASL reports that a group of Buddhist monks and lay people visited the pastor on Saturday, declaring that he needed permission from Buddhist clergy to conduct Christian services in Weeraketiya. The pastor insisted that freedom of worship was his constitutional right but the visitors threatened to destroy the church if he did not stop conducting worship services.
It appears that the mob started demonstrating outside the church before entering the building. Policemen posted outside to monitor the demonstration were overpowered and two of the officers were reportedly harmed in the attack. Additional police reinforcements and soldiers were drafted in to contain the mob. To learn more about the various challenges facing Christians in this part of the world, please go to the Sri Lanka Country Report.
Pray that the pastor, the members of his congregation, and the police officers who were wounded during the attack will make a full recovery. May the Lord use this ordeal to further strengthen the faith of these Sri Lankan believers, granting them the courage to overcome the threats of the enemy and continue meeting together. Also remember to lift up the dear children who witnessed the event and are now in need of God's reassuring comfort. Of course, we are to be mindful of our need to pray for the Lord to radically transform the hearts and minds of the persecutors.