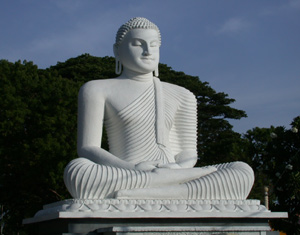 Pray that many Buddhists will come to know Christ.
A pastor and his family were attacked recently by an angry mob after filing a complaint with police on behalf of four Christians who were threatened at a prayer meeting held at their home. The four believers were confronted on May 11th by about 30 people who warned them that they would be assaulted if they came back to the village for future prayer meetings.
The next morning, the pastor went to the police station to file a complaint and was asked to meet with police at his home later that day at 4 p.m. The police also asked the four Christians who were accosted to attend the meeting. While the Christians were waiting for the police to arrive at the pastor's home, approximately 150 people surrounded the house and began shouting out slurs. The family immediately called the police who told them that they were on their way.
At around 5:30 p.m., roughly 40 people from the mob broke through the security fence surrounding the house. Taking poles from the fence, they smashed the pastor's van while others poured into the home and attacked those inside. The pastor was knocked unconscious after receiving a harsh blow to the back of his neck with a pole. Afraid that they had killed him, the crowd immediately fled. The police, having finally arrived 10 minutes after the crowd dispersed, took the Christians to the police station. The believers were then held for questioning for seven hours, while their attackers were neither questioned nor arrested. The pastor spent four days in the hospital recovering, and three others were hospitalized for two days.
The Christians filed a case against their attackers two weeks later. When the case was heard on May 29th, a magistrate reprimanded the police and instructed that all the attackers be arrested immediately.
Please join us in praying for these fellow believers as they recover from this unwarranted attack. Ask God to grant physical and emotional healing to all who were injured. May our Lord encourage them in their faith so that they will not give in to fear or discouragement but rather entrust themselves fully to Him. Please also remember the perpetrators of this violent assault, praying that the Holy Spirit will work mightily in their hearts and lead them to salvation in Jesus Christ.
For more information on the trials our Christian family faces in Sri Lanka, visit our Sri Lanka country report.