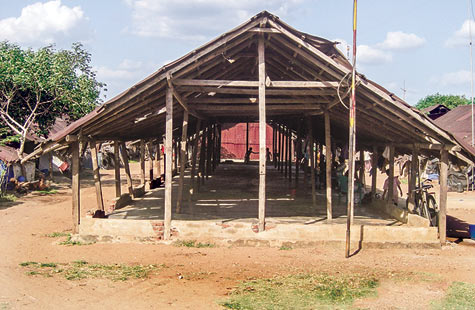 An outdoor church structure in Sri Lanka.
A pastor from a local district in Sri Lanka was abducted and assaulted by someone who duped him into believing a sick relative was in need of prayer. After being persuaded to follow a man who requested a pastoral visit for his allegedly ailing mother, the innocent pastor was driven to a nearby Buddhist worship site. During this time, the kidnapper made threats on his life if he didn't kneel and request the forgiveness of the opposing religious leaders. However, since the site was occupied when the men arrived, the kidnapper and his accomplice drove the pastor to an isolated area instead where they threatened to destroy his church unless he closed it down. The pastor was then beaten by the assailants and left abandoned.
Over the past two months, there have been several incidents in which Sri Lankan pastors have been harassed, assaulted and ordered to stop church activities. The rise of militant Buddhist nationalist groups in Sri Lanka during the past few years has intensified the persecution of Christians. To date, more than 250 churches have been destroyed or damaged in the sectarian violence. While the Sri Lankan constitution claims religious freedom for all, minority evangelical Christians (representing only about one percent of the population) have experienced violent persecution, as well as discrimination in employment and education. Previous news reports on persecution in Sri Lanka can be found at VOMC's country report.
Please intercede on behalf of the victimized pastor and his church, requesting that this community of believers be shielded from any further threat of danger. In fact, may the Lord provide supernatural protection for all of Sri Lanka's pastoral leaders, as well as their families and congregants, especially those who are being targeted for boldly testifying of their faith. In addition, pray for an increased measure of faith, wisdom and guidance as these pastors continue to minister amid the mounting challenges in order that many others will experience God's love and salvation -- including those opposing them.