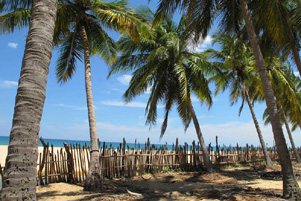 On the morning of September 21st, six Christians were on their way to a worship service at the Berea Prayer House in Kalkudah when they were accosted by ten villagers. After they had been beaten with sticks, the believers were taken to area hospitals for treatment.
Two of the ten people responsible for the attack were arrested for assault and mandated to appear in court the following day. Prior to this attack, the pastor and members of the church have faced continuous harassment from a group of hostile individuals in the community.
Opposition against church meetings is relatively common in areas of Sri Lanka. On September 14th, a large mob gathered at the Zion Revival Church in the village of Iddagolla. Included among this opposing group were six Buddhist monks and several police officers. While uttering threats of arrest, the officer-in-charge demanded that the pastor stop all religious activities in Iddagolla and never enter the village again. To view a video on the persecution of Christians in Sri Lanka, see this page.
Prayerfully lift up all those who have suffered physical harm in these September attacks, asking the Lord to help them fully recover from the resulting injuries and emotional trauma. May His strength, wisdom and encouragement empower the members of these churches, and others facing opposition from community members, so they can continue spreading the message of the Gospel throughout the nation.