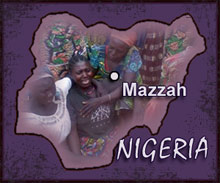 Muslims attacked the predominately Christian village of Mazzah, near the city of Jos, on July 17, killing eight people and burning seven houses and a church building. At approximately 1:30 a.m., Muslims entered the village and began shooting sporadically in the air to lure sleeping residents outside their homes. They then attacked people with machetes, including children. Seven were killed instantly, while another died on the way to the hospital. Three others were seriously injured.
During the attack, Reverend Nuhu Dawat of the Church of Christ in Nigeria escaped with one of his children, but his wife and two other children were killed. His grandson, Nanfa, was shot in the foot, thrown in a bathroom and left to die. Fortunately, he was found by the police and taken to hospital, where he is recuperating well.
Villagers claim that although the security forces were called and arrived in time to quell the violence, they waited until the attack had ended before entering Mazah. The area is currently reported to be "quiet but tense." Some residents have fled the area in fear of further violence.
The attack followed recent clashes in eastern Nigeria in which eight people were also killed and several buildings torched (click here for more). Some observers say the violent attacks are the result of religion being exploited in the struggle for local power. There is also fear that such conflict could increase in the run up to elections expected early next year. (Source: AFP, Christian Solidarity Worldwide)
Please pray that those who have lost loved ones will know God's comfort. Pray for Nigerian authorities as they seek to restore law and order in the region. Pray that those responsible will be brought to justice. Ask God to enable Nigerian Christians to respond to their persecutors in a Christ-like manner, with forgiveness and without retaliation.
For more information on persecution in Nigeria, please visit the Nigeria Country Report.