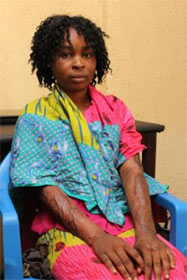 A Nigerian woman
had her arms seriously
burned in an attack.
Boko Haram, a notorious terrorist group that operates in northern Nigeria, has once again stepped up its vicious attacks on hundreds of innocent citizens. The group's rampage throughout several northeastern Nigerian towns and villages since May 29th has left more than 750 dead in an area with a notable Christian presence. After trying to gain access to Maiduguri, Borno State's largest city, a large contingent of Boko Haram was pushed back, resulting in significant losses.
The increase in terrorist violence can be seen partly as Boko Haram's challenge to President Buhari's campaign statement that he would end the insurgency within three months. Now calling itself the "West African Province of the Islamic State," this terrorist group has also pledged allegiance to ISIS in March of 2015 -- responding to the call to "make Ramadan a month of disasters for the infidels."
It appears that Boko Haram's strategy includes inciting fellow Muslims against Christians, for its members attacked multiple mosques on July 1st and 2nd. Then on July 5th, five gunmen stormed a mosque in Plateau State, shooting randomly before a suicide bomber struck. Later in the evening, another suicide bomber detonated a device in a crowded restaurant. That same day, six other people, including a pastor and a mother carrying her child, all died when a suicide bomber detonated a device at the Redeemed Christian Church of God in Potiskum, Yobe State.
Given northern Nigeria's history of religious crises, the attacks on Muslim and public sites may have been Boko Haram's attempt to reignite old hostilities. Our sources report that angry Muslim militants subsequently burned St. Michael's African Church, damaged vehicles, vandalized Christian businesses and attacked the Evangelical Church Winning All Good News building. "Boko Haram has illustrated its utter disregard for every religious creed, including the one it purports to be upholding, and for the sanctity of human life," concludes CSW's Chief Executive Mervyn Thomas. For VOM Canada's previously posted reports and video clips on the dire situation in northern Nigeria, go to the country report.
Our thoughts and prayers are with those who have lost loved ones, homes and livelihoods as a result of the multiple atrocities. Let's pray for God's peace and comfort not only to be upon the attacked Christians, but to all in Nigeria who have lost dear loved ones as a result of the recent tragedies. Pray that the country's believers will shine as lights -- compassionately reaching out to non-Christians and Muslims who are also suffering. As a result, may the love of Jesus and the message of salvation be revealed to many.