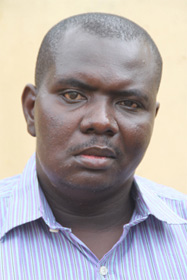 Habila, who survived
after being shot in
2012, tragically lost
family members in a
recent bomb attack.
The notorious rebel group, Boko Haram, is believed to have been responsible for a suicide bomb attack against a church on July 5th. Among the five casualties are Tabita Adamu and two of her eight children, as well as the church's pastor and an elder. In 2012, Tabita's brother Habila endured a gunshot to the face after being confronted by members of Boko Haram. Habila, whom VOM has since supported, gained international attention in 2013 after testifying before members of the U.S. House of Representatives on the threat of Boko Haram. In a private VOM interview, Habila recalls the details of the horrific event. To view a seven-minute videotaped report featuring his testimony, please click here.
On November 28th of 2012, four armed men marched toward Habila's house and demanded that he, his wife, and their six-year-old child step outside. When one of the men threatened Habila, asking if he was willing to die for his faith, the uncompromising believer held true to his convictions. Habila was promptly shot in the nose, fell to the ground, and began to bleed profusely. Police on call, who had offered to help Habila, never showed up at the scene.
Nine hours had passed before Habila was taken to the nearest hospital. Unable to tend to his complicated condition, the medical team transferred him to a different hospital, which later transferred him elsewhere for surgery. Due to the severity of damage done to his mouth, he was fed through a tube for the duration of his hospitalization, which spanned over six weeks. On the day of the scheduled operation, the surgeon discovered that he did not need to conduct the bone and skin grafts because the Lord had already begun healing these areas. Remarkably, since the shooting incident, Habila has forgiven the assailants.
Thank the Lord for healing Habila's mouth, and for using it to speak out against the threat of Boko Haram and testify of the Gospel (Genesis 50:20). Pray that this persevering Christian spokesperson will now experience healing and comfort after tragically losing his sister Tabita and two of her children during the church bombing, along with fellow ministry workers. May Habila and the surviving victims of this recent attack find great strength and peace in the Lord. We echo Habila's heart's cry for the true victims of such acts of evil -- the perpetrators – interceding that the Lord will "let them know the truth" so they will not eternally perish but rather be spiritually saved and radically transformed.