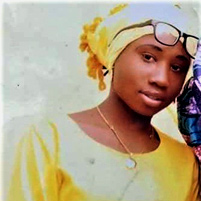 "Islamic State West Africa Province" (ISWAP), the Boko Haram faction currently holding 15-year-old Leah Sharibu, has released a statement claiming to have executed a second Red Cross aid worker during the past month. In the statement, the group claimed that Hauwa Leman, along with Saifura Ahmed (who was killed in September), were apostates because they joined the Red Cross.
As part of the announcement, ISWAP also stated that they would no longer kill Leah Sharibu, as they had earlier threatened. Instead, they vowed to keep her as a "slave for life." Also held as a slave is Christian UNICEF worker Alice Ngaddah.
The Nigerian government is facing increasing pressure to ensure the safety and release of Leah and others in Boko Haram captivity. Remember Leah, Alice and the other captives in your prayers, as well as their distraught families. More information on Leah's captivity is available here.