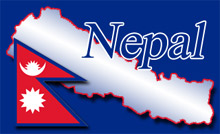 Six men attacked and brutally beat a Gospel for Asia-supported missionary in Nepal on October 17. The men accused Indra Rai Waglan of blasphemy against their traditional gods. They also accused him of forcing all the members of two families to convert to Christianity.
Indra and an elderly believer were travelling to a neighbouring village to conduct a prayer meeting when the attack happened. After the attack, the men left Indra unconscious beside the road. He was later able to get medical treatment. He has a broken rib and bruises all over his body. The police have identified and charged six men with the attack. Their case is now before the court.
Please pray Indra will be completely healed and fully restored. Pray he will be given the strength to stand firm in Christ. Pray also for the perpetrators and the police involved in the case that the Holy Spirit will lead them to repentance and belief in the one true God.
Find out more about the persecution of Christians in Nepal by visiting the Nepal Country Report.