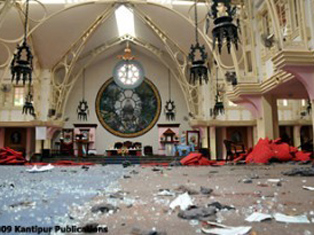 Assumption Catholic Church after the bombing in 2009.
Two years after an explosion shook one of the biggest Catholic churches in Nepal and killed three people, the underground group that orchestrated the attack claimed responsibility for another bomb blast in November (for more on the 2009 attack, click here).
A crude bomb went off on November 22 in front of a leading Christian charitable organization's office in the capital city, sowing fresh fear and insecurity among Christians. Thankfully, there were no casualties. At the site, police found leaflets signed by someone calling himself a senior member of the Nepal Defence Army, a militant armed group that has terrorized Christians and Muslims, demanding that they leave Nepal. The leaflets asserted that the majority population in Nepal was Hindu and that therefore it should be a Hindu state. The leaflets also accused the charitable organization of converting Hindus to Christianity.
On the same day in the north-eastern district of Sindhupalchowk, local residents of the predominantly Buddhist village of Danchhe assaulted two brothers for leading worship services at their home, leaving one unconscious.
Ask God to grant courage and boldness of faith to Christians in Nepal. Pray that believers in Nepal will exemplify the love of God through consistent love and prayer for those who persecute them (Matthew 5:43-48). Pray for lasting peace in Nepal.
Please visit the Nepal Country Report for more on the trials believers face in Nepal.