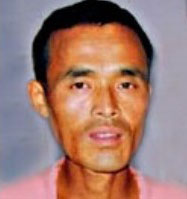 Chhedar Bhote
After receiving a 12-year prison sentence, a pastor in a remote part of Nepal was released from detention on July 17th. Pastor Chhedar Bhote Lhomi, 37, who ministered among the Tibetan people and established a church that met regularly, was handed the lengthy prison sentence for eating beef. Although he served in an area of Nepal where this practice is permissible, in other areas of the country local Hindus do not eat beef because cattle and oxen are considered sacred.
In October of 2012, local villagers discovered that Pastor Chhedar and his family had consumed this "forbidden meat." In an uproar, they accused him of killing the "sacred" animal himself, justifying the destruction of his home and everything he owned. The angered locals then handed the pastor over to a Hindu committee that got the police involved and prompted his arrest. While Pastor Chhedar was detained, his family struggled without him. Adding to the couple's heartache, their three children -- ages ten, eight and seven -- were teased and mocked by their peers. Thankfully, a court recently declared Pastor Chhedar not guilty of the charge.
Thank the Lord for this marvellous answer to prayer! Pray that this faithful servant of God and his family will fully recover from the difficult trials they have faced within the past two years. As this pastor experiences freedom once more, may new doors of ministry opportunity open up for him and his family. Ask that any discouragement or obstacles they may potentially face going forward be turned into joy as they serve wherever the Lord calls them. Please also pray that the hearts of the Tibetan people who live in this area of Nepal will be receptive to the Gospel, accepting with joy the wonderful salvation of Jesus Christ.
To learn more about the persecuted church in Nepal, please visit our country report.