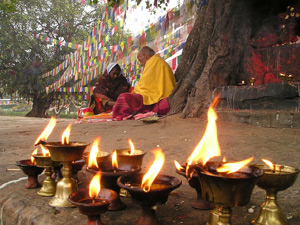 Pray that evangelism in Nepal
will not be restricted as there
are many in need spiritually.
Nepali Christians fear that proposed amendments to the country's new constitution, likely to come into effect this August after seven years of parliamentary discussions, could eventually render all Christian activity illegal. Christians are deeply concerned that the draft, though it affirms the right to profess and practise one's own religion, criminalizes evangelism and conversion.
Article 31(3) states that "any act to convert another person from one religion to another, or any act or behaviour to undermine or jeopardize the religion of another (will be) punishable by law." Christians are worried that if the latest draft is passed, regular Christian activities, such as holding church services accessible to all or even simply organizing events to aid the disadvantaged, could be interpreted as being evangelistic and, therefore, considered an offense.
Once the world's only Hindu kingdom, Nepal was declared a secular, democratic republic in May of 2006. However, Hindu nationalists have run a highly successful propaganda campaign convincing Nepalis that "secularism" will lead to mass conversions to the detriment of Nepalese culture. C.B. Gahatraj, a representative of the Federation of National Christian Nepal, believes that the number of Christians in the Himalayan nation is underestimated, adding that people are not being forced to convert. "Hindu groups may have been alarmed by the fact that people who were praying quietly earlier are doing so openly now," he says. "All citizens must be allowed to practise the religion of their choice freely."
According to the following statement by David Kainee, another concerned Nepali believer, the implementation of the new constitution could be potentially disastrous: "For peace and prosperity, we need to defeat the forces of religious extremism in the country, otherwise Nepal is sure to take the path of communal politics like in the Gulf and Middle Eastern countries where hundreds of people are being killed in religious violence every day. Let's close the chapter of giving a political colour to religion which is polarizing Nepali society, and instead plant the seeds of tolerance and unity."
More information on the country of Nepal can be found at VOM Canada's website.
Please join us in prayer for our Nepali brothers and sisters whom this new law could seriously affect. Let our hearts' desire be for the Lord to intervene on their behalf, granting those in authority wisdom as they endeavour to preserve religious liberty for the benefit of all. May He give prominent Christians within the country insight and authority as they seek to influence the debate, advocate for religious freedom, and counter the propaganda of Hindu nationalists. Intercede for all of Nepal's believers -- including evangelists, church workers and their leaders -- that they may have divine wisdom as they navigate the path ahead (Psalm 46:1). Throughout the process, may God continue to build and equip His church in Nepal.