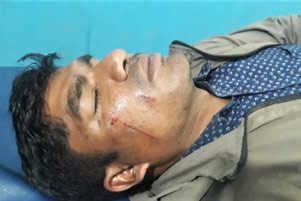 More than a month after Pastor Dhurba Kumar Pariyar was attacked by Maoist rebels, he remains in pain and faces mental trauma. Despite that, he has found strength in the Scriptures, as well as the testimonies of others who have suffered for their faith.
Pastor Dhurba was riding a motorcycle on his way back from distributing toys and supplies to poor children when he was stopped by two other motorcyclists. After confirming his identity, the pastor was pulled off and dragged towards the jungle. The attackers accused him of preaching a foreign religion and bribing people to convert. While beating him, they threatened his life if he did not hand over any American money that was with him at the scene. The men fled when a vehicle passed by and the headlights fell on them.
The injured pastor was released after receiving treatment in hospital. Although a police report was filed, at last indication, the perpetrators had not been found. Pastor Dhurba and his wife, who are the parents of a five-year-old son, have served the Devotees Nepali Assembly in Kathmandu since 2011.
In October 2017, a bill was passed restricting religious conversion and instituting fines for anyone found to be involved in converting others. The law came into effect during August 2018 and, since that time, there has been an apparent increase in the overall persecution of Christians. To learn more about the country of Nepal, go to our country report.
Pray for Pastor Dhurba's complete healing from both the physical and emotional wounds, asking God to continue providing great comfort through His Word and the encouragement of fellow believers. Remember others in Nepal who are courageously ministering in the name of Christ to those needing spiritual and humanitarian help. May the perpetrators responsible for this attack be held accountable, so they will be convicted of their wrongdoing -- in hopes of them coming to repentance and faith in God through the testimony of faithful Christians.