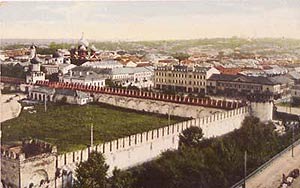 Tula, Russia
Early on January 13, two watchmen were injured when a powerful blast ripped through a Baptist church building in Tula, Russia. While local authorities are saying that it was caused by a gas leak, Baptist leaders believe that it was a bomb. According to a January 20 report by the Union of Councils for Soviet Jews, witnesses had seen a group of men around the building and the sound of breaking glass just before the explosion. The Baptists also claim that the gas pipes were not damaged and that they had recently received anonymous threats. A VOM source reports that building experts have ruled that the building is beyond repair.
Pray that God will minister His peace to this congregation. Pray that God will use this loss to expand His kingdom in the region.
For more information on issues facing Russia today, go to www.vomcanada.com/russia.htm.