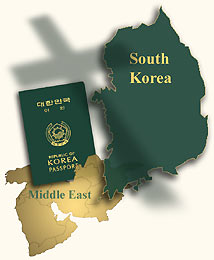 After receiving complaints from Middle Eastern countries about the evangelistic efforts of its citizens, South Korea is considering banning missionary work in the Middle East "because of safety concerns." According to an unnamed official who spoke to The Korean Times late last week, among the measures being considered are restrictions on the usage of passports and on departures from South Korea for those who have been expelled for evangelization attempts. Members of missionary groups could be prohibited from entering Middle Eastern countries even if they have no records of expulsion. According to the official, "Some organizations keep sending their members to dangerous areas for missionary work. We've received requests from other countries to have them refrain from doing this."
In a weblog published on August 31, The Voice of the Martyrs urges the South Korean government to refrain from interfering, even with the best intentions, in the rights of its citizens to carry out their faith even in dangerous environments. We also urge Christians in free nations to recognize that there are risks in taking the gospel to many parts of the world and to accept the consequences of their obedience. We further call upon mission and church leaders to better plan short-term ministry trips and prepare participants in ways and means of doing evangelism in religiously hostile environments that are in line with the biblical admonition to be as wise as serpents and as innocent as doves (Matthew 10:16). See our weblog for the full statement and a fuller examination of this story.
Pray that the South Korean government will withdraw their plans to restrict the religious freedom of their citizens in this way. Pray that church leaders will stand up and let their concerns be known about these proposals. Pray that church leaders and missions worldwide will recommit themselves to developing ministries in Muslim countries that are in line with the biblical admonition of Matthew 10:16.