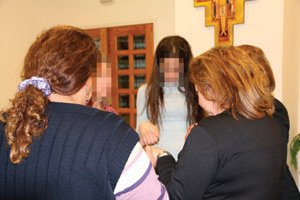 Syrian women praying with a VOMC worker.
Intense fighting between Islamic State (IS) militants and government forces erupted on May 4th in Damascus, prompting media outlets to warn Christians living in the area to evacuate immediately.
Government forces have since employed air assaults and armoured tanks to fight the militants, making it extremely dangerous for those living in the immediate area. Last month, it was reported that IS had moved into a part of Damascus that is less than a mile from several Christian neighbourhoods.
A VOM contact, whose family lives in the area, has requested prayer for the many believers residing there. "They can't go anywhere at this point," he explained. "Pray for the safety of our family and churches all over Damascus and Syria."
Please join our brother-in-Christ by praying for the persecuted church in Syria, specifically asking God to shield each believer from resulting danger or harm. May those who have recently fled from Damascus soon find safe havens in which to live. For others who must remain in the war-torn city, pray that they will entrust themselves and their loved ones entirely to our faithful Lord. Despite the present bleakness in this beleaguered area of the world, ask that the Holy Spirit will minister daily to Syria's suffering Christians, while also moving mightily in the hearts of those who do not yet know Jesus as their Saviour and Lord.