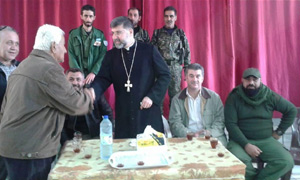 Assyrian hostages freed by
ISIS arrive in Tel Tamar, Syria.
Photo: AINA
Members of the Islamic State (ISIS) terrorist group have released another 37 Assyrian Christians who had been kidnapped nine months ago. Those freed on November 7th -- including men and women in their 60s and 70s -- were among the 253 Christians snatched during ISIS attacks on Assyrian villages in Syria's northeastern Hasaka province. Thankfully, the newly released hostages arrived safely at the local town of Tel Tamar.
Negotiations to release the captives had taken place between the Assyrian Church of the East and ISIS. The terrorist group had previously demanded about $100,000 for each hostage. Further negotiations are understood to be "underway," sources report.
On October 7th, ISIS had released a video of its militants killing three Assyrian hostages, while threatening to kill more if demands were not met. The terrorist group is still holding captive an estimated 168 other Hasaka Christians, as well as 185 Assyrians who were abducted from the town of Qaryatain in western Syria's Homs province during the first week of August. Islamic State's countless acts of violence have particularly targeted religious minorities. Reported abuses include murders and sexual enslavement. For previous reports and informative video footage, go to the Syria Country Report.
Thank the Lord for delivering these believers from their captors, asking Him to make a way for many more victims to safely escape or be released. Pray that He will also minister complete physical, emotional and spiritual healing to each of the abducted Christians. May they have the grace and supernatural enabling to forgive and intercede on behalf of the terrorists who had restrained and possibly abused them. Ask the Lord to continue the great outpouring of His Spirit upon the inhabitants of both beleaguered nations -- Syria and Iraq -- so that there may be unprecedented church growth in the Middle East.