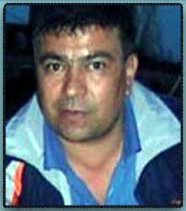 Praise God for Pastor Ilmurad's release!
Nearly 18 months after his August 2010 arrest, Pastor Ilmurad Nurliev has been released from prison. Pastor Ilmurad, 46, was arrested at his home in Mary in south-eastern Turkmenistan on August 27, 2010. He was charged with extracting money from three people -- an accusation his wife, Maya, and fellow church members strongly denied (for more, click here).
On February 18, Pastor Ilmurad was among a group of about 230 prisoners freed under amnesty from a labour camp. "Church members have been coming to the house to celebrate my release with me," Pastor Ilmurad said. "I want to thank ... everyone who supported me and helped [in] my release."
Praise God for Pastor Ilmurad's release! Pray that God will heal any physical, emotional, or spiritual wounds. Pray that God will continue to equip and use Pastor Ilmurad to further His Kingdom in Turkmenistan.
Please visit the Turkmenistan Country Report for more on Turkmenistan's persecuted Church.