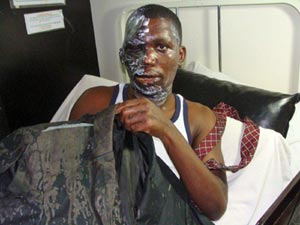 Muslim extremists threw acid on Bishop Umar Mulinde
outside his church near Kampala.
Photo: Compass Direct News

Islamic extremists threw acid on a church leader on Christmas Eve, leaving him with severe burns that have blinded one eye and threaten his sight in the other. Bishop Umar Mulinde, 37, who was previously a sheikh (Islamic teacher), was attacked when a man who claimed to be a Christian approached him.
"I heard him say in a loud voice, 'Pastor, pastor,' and as I made a turn and looked at him, he poured the liquid onto my face as others poured more liquid on my back and then fled away shouting, 'Allahu akbar [God is greater],'" Mulinde said. At last report, his face, neck and arms bore deep black scars from the acid and his lips were swollen. The wounds are so severe that he may need plastic surgery. Police have reportedly arrested one suspect.
Mulinde is married and has six children. He has faced several injuries and attacks from Muslims since his conversion to Christianity in 1993.
Pray the Lord will heal Mulinde's physical and emotional wounds. Pray that he will receive all the treatment he needs. Pray he will remain steadfast in the faith (1 Peter 5:8-10). Pray that the perpetrators will repent and turn to Christ. Pray for those in authority who are dealing with this case.