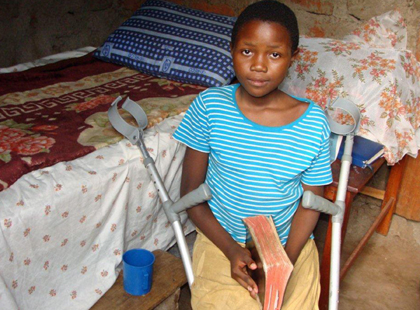 Susan Ithungu is slowly regaining the
use of her legs after being locked in
a room for six months.
Photo: Compass Direct News

A 15-year-old Christian girl in Uganda is slowly regaining the use of her legs after her father, in an attempt to make her convert back to Islam, confined her in a small room and deprived her of adequate food and water.
Susan Ithungu was locked in a room for six months after accepting Christ as her Saviour in 2010 (for more information, click here). She weighed just 20 kilograms when she was finally rescued after her brother informed neighbours of his sister's life-threatening condition. The two children lived alone with their father who was arrested last fall when the girl was removed from the home by police and hospitalized for more than a month. Susan's father was quickly released, however, and remains unapologetic for the abuse. Susan now lives in a rented house in an undisclosed location.
"Well-wishers have been paying the house rent and buying me food and clothing," said Susan, who added that she has forgiven her father. A church member, Biira Dreda, left her own four children with family to care for Susan. Susan has begun to walk with support, but cannot squat or stand upright due to the amount of time she spent immobilized. She hopes to return to school soon, but remains in very fragile condition.
Please pray that Susan will continue to make progress in her physical and emotional healing. Pray that she will regain full use of her legs and will be strong enough to continue in her studies. Pray that her brother and her father will see Christ's love in Susan and that they will be brought to salvation. Please pray for Biira; pray that her love and compassion for Susan will be rewarded with abundant blessings.