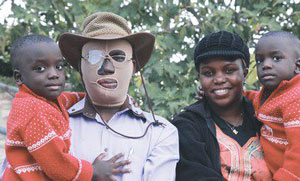 Pastor Umar, wearing a compression bandage,
is thankful to be reunited with his wife and children.
On May 25th, a pastor who was severely injured for his Christian witness was able to return home to his wife, six children and congregation in Kampala.
Pastor Umar Mulinde, a former Muslim, was brutally attacked on Christmas Eve in 2011 by militants who were angered over his leadership of a thriving church that consists of more than 1,000 believers. The pastor was left with serious injuries after the assailants poured acid over his face and back before fleeing the scene shouting, "Allahu Akbar." (For more information on the attack, please visit our website.)
In the following months, the militants continued to threaten the pastor and the church. In July of 2012, they sent a note to the church with the warning, "Don't think you survived us." Acid was poured over the church veranda the following February.
Through the support of various groups, including VOMC's sister mission in the USA, Pastor Umar was able to receive medical care in Israel. This past February, he underwent his eighth facial surgery to reconstruct his ear and save his hearing. The pastor has since been told by doctors that he is now able to resume all normal activities.
Pastor Umar's church is planning to host a celebration service on June 21st, in spite of ongoing threats. Although police will provide security, local Christians are asking for prayer. They earnestly desire that God's Word be spread at this upcoming event.
Thank the Lord that Pastor Umar was able to return home to his family and friends in Uganda! May his enduring faith serve as a powerful witness to those opposed to the Gospel. Please also pray that God will greatly bless the upcoming celebration service. May the congregation enjoy a time of rejoicing and praise, while also spreading God's Word throughout the community. Ask the Lord to grant peace and safety to all those who attend the upcoming celebration event and all future church meetings or services.