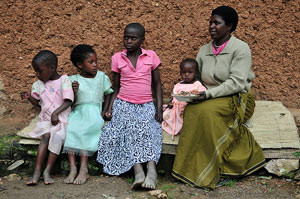 Pray for the safety of women in Uganda.
Photo: Flickr / CIAT (cc)
A teenager from eastern Uganda, whose parents had converted to Christianity, was gang raped and beaten a few weeks ago. The 19-year-old college student was still receiving hospital treatment nine days after the attack which took place in the Bukedea district.
Three masked men ambushed the young woman as she was returning from her teacher training college on September 19th. They threatened to kill her because her parents had left Islam, then they beat her to an unconscious state. She was discovered by passersby the next day. This attack has worrying similarities to the gang rape of a pastor's daughter that took place in the predominantly Muslim Budaka district of east Uganda earlier this year.
Meanwhile, also in Budaka, a mother of eight attests that she has been forced to return to Islam, after in-laws threatened to kill her and take away her children. The woman's husband left her ten years ago because she became a Christian. The discouraged 36-year-old mother is said to be "spiritually troubled" and has asked for prayer that God would restore her to Christ.
Ask the Lord to greatly comfort and heal both of the young Christian women who were raped and beaten. May He protect them from any further harm, and bring needed comfort to their concerned families, strengthening each of them in their faith. In addition, please uphold the abused mother from Budaka who was forced to convert to Islam, praying that she will experience God's presence, restoration and protection. Ask Him to also protect her children -- both physically and spiritually. Let us also be mindful to intercede on behalf of our other persecuted brothers and sisters in Uganda, praying that they will put their trust fully in God, even amid the rising persecution in certain areas -- particularly against Christians of a Muslim background.