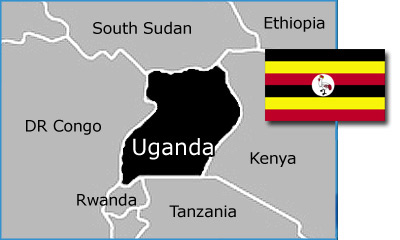 In eastern Uganda, a young Christian convert was severely beaten on November 12th by her militant Muslim father after leaving Islam to follow Christ. Namusisi Birye reportedly converted to Christianity at an evangelistic event, but somehow news of the decision had reached her father before she arrived home. Upon entering the house at about 7 p.m. that evening, Namusisi was immediately attacked by her father, whose intention was to beat her to death. Thankfully, some leaders in her community intervened just in time.
"My father had a wooden stick and started beating me as I entered the house," recalls Namusisi. "As my mother was about to beat me also, the local council chairman...arrived and rescued me. Soon some neighbours who are Christians also arrived." One of these neighbours happened to be a church leader. The concerned leader explains of the alarming incident, "As we arrived, the girl was bleeding, and her clothes had blood stains all over."
While the distraught young woman's screams brought several neighbours to the scene, her mother and father insisted she die. "Our daughter must be killed according to Islam, because she has become an apostate," her father told those who came to her aid. "She can never be our daughter again."
After persuading the irate parents not to kill their daughter, a suggested resolution was proposed. It was officially agreed with a statement signed by the parents to release her to the local council chairman, Mutaana Paul, who has willingly accepted Namusisi into his home temporarily. "She is now recuperating after being disowned by her parents," the council chairman reports. Namusisi, who has been suffering from severe pain in her ribs since the beating, is receiving treatment at a local clinic. She has also sustained injuries to her right hand and bruises on her forehead.
Unfortunately, Namusisi wasn't the only participant in the recent evangelistic event whose life was endangered as a result of conversion. During the same event, which happened to be interrupted by a group of furious militants, a man who was dressed as a Muslim leader went to the front during the meeting to acknowledge his acceptance of Jesus Christ as Saviour. Even though the whereabouts of the former Islamic leader are unknown, local Christians are worried about his safety.
Please join us in praying for Namusisi's complete physical and emotional healing, asking the Lord to comfort her after this painful ordeal and help her to come to terms with the loss of her now estranged family. Although this young convert has had to pay a high price to follow Christ, may she rejoice in knowing that her Heavenly Father warmly embraces her as one of His own dearly beloved children. Pray that as this truth resonates in her heart, she will have a greater resolve to follow Him. Ask the Lord to wonderfully bless and encourage Namusisi, especially regarding His desired plan of salvation for her unsaved family through the power of the Holy Spirit. In addition, please pray for the protection and discipleship of the other convert who made a commitment to follow Jesus while at the evangelistic event...so he, too, will experience God's goodness and fulfill the future plans that are in store for his life and potential ministry (Jeremiah 29:11).