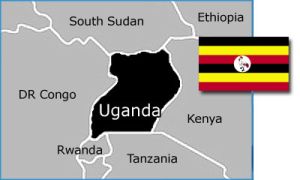 On October 30th, militant Muslims of a village in eastern Uganda gutted the home of a Christian family for providing refuge to two boys who were threatened with violence for leaving Islam. Stephen Muganzi, 41, explained that the two teenaged boys sought refuge on October 16th after their parents began questioning them about their conversion to Christianity and subsequently threatened to kill them. The two boys, aged 16 and 17, had secretly become believers about seven months earlier.
After the youths fled their homes and the parents began searching for them, Stephen himself began receiving threats: "I started receiving threatening messages on my phone accusing me of converting the boys to Christianity, as well as housing them in my house without the parents' permission. But I did not take (them) very seriously."
The boys' fathers (names withheld, for the security of their endangered sons) organized a group of sharia (Islamic law) vigilantes to punish them for apostasy. The mob, including the boys' fathers, then set fire to the Christian man's home.
The church sent one of its elders to check on the extent of the damage. "The loss is enormous," the elder announced. While at the premises of the burned home, he also discovered leaflets that were left behind by the attackers. The notes read: "Be informed that we are not yet finished with you. Expect more. Worse things are on the way." Stephen's family and the youths have been forced to seek shelter elsewhere.
Thank you for joining with us in praying for the safety of the imperilled teens whose lives are being sought by the militant Muslims of their community, a situation instigated by their very own fathers. May these young believers experience the comforting presence of their Heavenly Father in personally meaningful ways. Also pray for Stephen and his family, who have kindly offered to help the two boys in an effort to keep them safe and their newfound faith strong. May the Lord give Stephen the strength and provision to continue assisting the boys, ensuring that they have good quality care, education and a promising future.