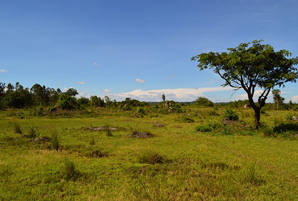 On November 4th, a militant Muslim posing as a Christian teacher attacked Hassan Muwanguzi, the director of a faith-based elementary school in Kabuna village, Budaka District. Due to the attack, some of the children at the Hope of Glory International Nursery and Primary School have been afraid to return to their classes.
After the school board learned a few days prior to the assault that Mugooda Siraji wrongfully misrepresented himself and had been teaching the children about Islam, he was asked to take a leave of absence. Although Mugooda had agreed when the recommendation was initially presented, he returned to the school premises days later and proceeded to force his way into the office of the school's head teacher who was in a meeting with the director.
While carrying out the attack against Hassan -- repeatedly hitting him with a blunt object -- Mugooda shouted, "Allah Akbar." Even though some of the other teachers tried to apprehend the attacker, he still managed to escape. Police were notified and Mugooda was later interrogated. Following a time of questioning by criminal investigators, a case was opened up against him for perpetrating threats and violence.
As a result of the brutal attack, the school director suffered injuries to his right hand and face which, at the time, was bleeding profusely. Due to the nature of his injuries, Hassan was taken by police to a health centre in Budaka where he was hospitalized for two days. After receiving necessary treatment, he was later discharged. The head teacher reports that Hassan is still unwell and may need further specialized treatment.
Ask the Lord to minister to all those who were affected -- either directly or indirectly -- by the recent attack of the director on the school premises. May He continue His work of healing in Hassan's life, bringing about complete recovery from his injuries and the trauma of the attack. Also pray for Mugooda who instigated the violence. Ask God, who is the source of truth and love, to touch his heart -- convicting him of wrongdoing -- so that he may come to repentance and thus experience the joy of forgiveness and salvation.