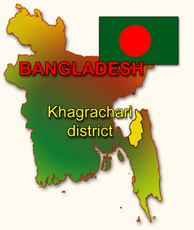 Members of seven churches were prevented from gathering for Christmas worship in Khagrachari district, Bangladesh, following threats from a regional Buddhist political party. On December 19, members of The United People's Democratic Front (UPDF) called a meeting of 50 Buddhists and seven Christians, including a pastor. They threatened the Christians, saying that they would be in "great trouble if they celebrated Christmas in the village and or participate in any other Christian activities." The group members also warned the pastor not to take care of the congregation and ordered him to go back to his previous religion, Buddhism. Members of the UPDF also threatened Buddhist villagers, playing them off against the Christians by telling them that if the Christians celebrated their festival, non-Christian villagers would also be in trouble. Christian converts in the village have faced serious opposition in recent years. While many of them have stood strong in their faith, some have returned to Buddhism under compulsion.
Pray these believers will trust in Christ, relying on the grace of their Saviour amid opposition. Pray the Lord will guard the hearts of believers facing pressure to deny Him. Pray Christians in Bangladesh will be strong witnesses for Jesus and that demonstrations of His love will help to draw others to faith in Him.
You can find out more about Christians suffering for their faith in Bangladesh at the country report at the Bangladesh Country Report.