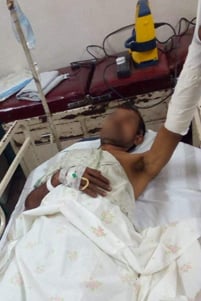 In last week's "Persecution & Prayer Alert," an urgent prayer request was issued for Christians who were recently attacked in a Rohingya refugee camp and the imminent forced marriage of a pastor's daughter to a Muslim man (read more). Since the previous report, more details have continued to come to light.
The attack occurred in Kutapalong, the world's largest refugee camp. More than 20 Christian families were attacked with at least 12 people injured. A similar attack happened in May 2019 by the Arakan Rohingya Salvation Army who claim to be fighting for the liberation of the Rohingya. Local police insist that the ARSA is not involved and have downplayed the number of injured.
In the aftermath of the attack, as many as 170 Christians have been moved to a segregated "transit camp" for their protection. We were also saddened to receive news that the forced marriage of the pastor's daughter has taken place. Some of the other kidnapped believers are still missing. There are reports stating that one man has been promised release if he converts to Islam. The son of another kidnapped man has asked fellow Christians to please pray that they will remain brave.
Please continue to lift up these attacked Rohingya believers in your prayers. Ask the Lord to provide safety for all concerned, while granting them courage in the face of violent opposition. Remember each of the abducted victims, including the girl who must now endure the forced marriage arrangement. May she also be rescued from captivity and any further victimization. Ask God to soften the hearts of the perpetrators, so they may come to sincere repentance and salvation in Christ.