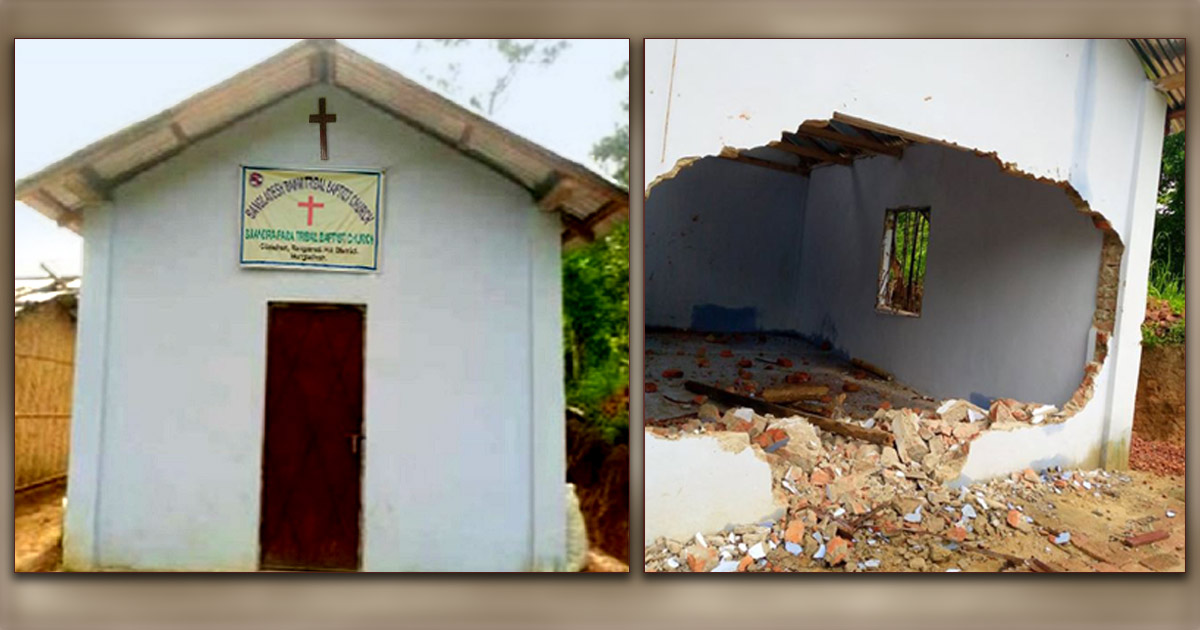 For several weeks, a small church in Suandrapara, a village of southeastern Bangladesh, has been facing threats from militant Buddhists who were attempting to coerce the Christians to return to Buddhism, even though many of the churchgoers had converted several years before. As a result of the oppression, most of the 50 members of the Bangladesh Tribal Baptist Church have been forced to stay away from their homes for fear of attack.
Along with the threats, the church building has been physically damaged on two occasions. The Buddhist militants first ordered the church members to demolish their place of worship. When the Christians refused, the assailants destroyed parts of the building, including the front gate and cross, on July 15th. The oppressors demanded that there be no further church activities, giving the believers seven days to return to their former religion. When that deadline passed, the church was again attacked on July 22nd, resulting in additional damages – this time to a wall, door and the tin roof. The Christians were threatened that there would be further consequences if they reported the incident to the police or members of the media.
The pastor, Rev. Tubel Chakma Poran Adetion, states that the members of his church have not gone to the police, since they are considered a minority people group within the village. "We want to live in peace with [the Buddhists] and discuss things with them," he explained. However, if a collaborative discussion cannot bring about a peaceful resolution, the believers are prepared to take the matter to court.
Both Christians and Buddhists are a small minority in Bangladesh, with the vast majority of the population being Muslim. To learn about the challenges facing Christians in Bangladesh, go to our country report.
Pray that God will bestow wisdom upon the members of the Bangladesh Tribal Baptist Church, giving these persecuted brothers and sisters in Christ the right words to say to their neighbours who so strongly oppose the Gospel. May the Holy Spirit provide the inner peace needed so these Christians will remain committed to Jesus, no matter the cost. Pray that God's Spirit will also touch the hearts of the instigators, bringing about radical transformation in their lives and ultimately harmony to this village community as a whole.