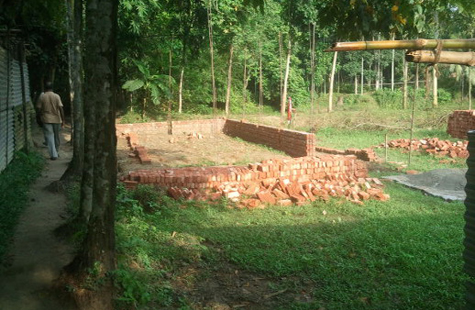 Construction of the Tangail Evangelical Holiness Church in
Bilbathuagani village was brought to a halt in September.
Photo: World Watch Monitor


Just months after the construction of a church building had been ordered to cease, a "committee" was formed to stop all Christian activity in Bilbathuagani village, Tangail. The committee is made up of political leaders, Muslim elders, and an elected local government official.
The church construction initially began in early September by approximately 25 believers who had been meeting secretly for three years. Five days after the construction had commenced, the local council chairman and approximately 200 Muslims went to the site and ordered the building project to stop. The following day, after announcements were made in the area mosques, more than 1,000 Muslims gathered outside the chairman's office to protest the church. A committee was then formed to stop the believers from "misguiding" Muslims.
"Never will the local Muslims accept those people's conversion to Christianity," the council chairman announced. "It is impossible for them to live as Christians in this Muslim area. It would be like stirring up a hornet's nest. This is the second time Christians are trying to ruffle a few feathers in our Islamic society. Ten years ago, some Christians tried similarly to convert some Muslims here, but we beat those Christians and they left this place forever."
Since the church construction was halted, several of the Christians in the community have returned to Islam.
Ask God to give the believers in this village strength to persevere in the midst of ongoing pressure. Pray that many more Muslims in this community will learn the truth about Jesus Christ and accept Him as their Saviour and Lord. Pray that religious freedom will be respected in Bangladesh for all citizens, including those of the very small Christian population.