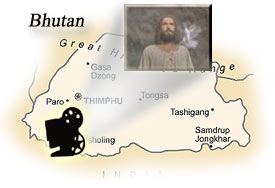 Two Christians in the Buddhist kingdom of Bhutan have been sentenced to long jail terms because of their Christian witness. Benjamin Dhunigana and John Dai were arrested on January 8, 2006 and have remained in prison since then. This week, a sentence was suddenly announced without a trial. Dhunigana was sentenced to three-and-a-half years in prison and Dai was sentenced to three years. They were given ten days to appeal to the court for bail. They intend to fight the case with the help of a prominent lawyer.
A VOMC contact says that Dhunigana has been active in sharing the gospel across Bhutan and, in particular, in reaching Buddhist monks for Christ. On January 7, he and Dai were traveling together in a van when they stopped and offered a ride to a woman walking along the road. Dhunigana and Dai drove the woman to her home and she insisted that they eat dinner with her family. They stayed to eat and then told the woman that they would like to show her a movie, the JESUS film. She asked if she could invite her neighbors also and the house was soon full of people watching the film about the life of Christ. Dhunigana and Dai were arrested the following day. VOMC sources say it was the neighbors who reported the two Christian workers to authorities. Both men are married and have children. Local Christians have promised to provide for the men's families as long as they are incarcerated.
Pray that the men will be a bold witness for Christ, even while they are in prison. Pray for justice for these two Bhutanese Christians. Polite emails of protest can be sent to the Bhutanese delegation to the United Nations at This email address is being protected from spambots. You need JavaScript enabled to view it..
F
or more information on persecution in Bhutan,
click here
.