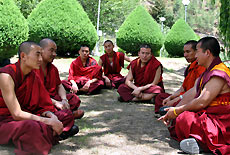 Monks gather outside the Tashichho Dzong
monastery which is also the seat of government.
Photo from Compass Direct
A Christian was sentenced on October 6 to three years in prison for "attempting to promote civil unrest" by screening films on Christianity in the predominately Buddhist nation of Bhutan. Four months ago, Prem Singh Gurung (40) was arrested after local residents complained that he was showing Christian films in the villages of Gonggaon and Simkharkha in Jigmecholing block. Prem was charged with violation of the Bhutan Information, Communication and Media Act of 2006. Sections 105(1) and 110 of this law require that authorities examine all films before public screening. While Prem has the right to appeal, at last report it was not yet known if he intended to take that course or even had the resources to do so.
Pray that God will bring to mind verses of Scripture to comfort Prem in his time of hardship (Psalm 119:49-56). Pray that he will continue to be a bold witness for Christ. Pray for enduring faith for other Bhutanese believers suffering for righteousness' sake.
To learn more about the trials facing Bhutanese Christians, go to the Bhutan Country Report.