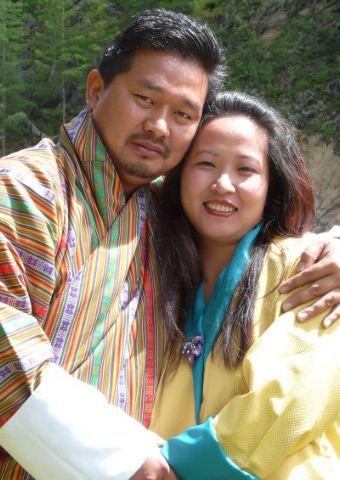 Pastor Tandin and his wife
Two pastors are under fire for their evangelism work in the Buddhist nation of Bhutan. On September 10th, Pastor Tandin Wangyal was sentenced to nearly four years in prison on charges of receiving money for spreading Christianity. The pastor has since been released on bail but may still be forced to serve the prison term. VOM contacts are concerned for the welfare of Pastor Tandin's wife, Nengboi, and their three young sons, especially if the pastor is required to serve his sentence. The pastor's co-worker, M.B. Thapa, was sentenced to two years and four months, or a fine equivalent to approximately $1,800 CAD. He was released after paying the fine.
The two men were arrested on March 5th while carrying a sick child to a village clinic. They had arrived the previous day after accepting an invitation to hold a three-day seminar for 30 Christians from neighbouring towns. They were detained under the charges of conducting a gathering for religious purpose without prior approval, showing a film without certificate of approval from media authorities, and collecting "illegal funds."
Thank you for interceding on behalf of these two pastors, praying that all charges and accusations against them will soon be dropped. Include in prayer their distraught families who are in need of God's encouragement and material provision. Please also remember the 30 Christians who initially requested the involvement of these pastors in the seminar, asking that the Lord will strengthen both their faith and resolve to follow Him despite the opposition. May their devotion to our God serve as an effective witness of His unfailing love, leading many others in Bhutan to accept His Son Jesus as Saviour and Lord.
To learn more about the struggles Christians are facing for their faith in Bhutan, visit our Bhutan Country Report.