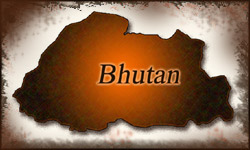 In the South Asian country of Bhutan, government officials recognise only Buddhism and Hinduism as the country's two religions. As a result, only these two communities have the right to openly practise their beliefs and build places of worship. That may soon change as Chhoedey Lhentshog, the authority that regulates religious organizations, discussed at its December meeting how a Christian organization can be registered to represent its community, according to agency secretary Dorji Tshering.
For the first time in Bhutan's history, the Buddhist nation's government seems ready to grant much-awaited official recognition and accompanying rights to a miniscule Christian population that has remained largely underground.
Asked if Christians were likely to enjoy the same rights soon, Tshering replied, "Absolutely." This is a shift in policy given that Bhutan's National Assembly banned open practice of non-Buddhist and non-Hindu religions in resolutions passed in 1969 and 1979, respectively. According to a Christianity Today source who requested anonymity, the government is likely to register only one Christian organization, and would expect it to represent all Christians in Bhutan--which would call for Christian unity in the country.
Sources indicate that the government's willingness to recognize Christians is partly aimed at bringing the community under religious regulation. In October, a Bhutanese Christian was sentenced to three years in prison for "attempting to promote civil unrest" by screening films on Christianity (read the story).
Thank the Lord that movement forward is being made. Pray for our fellow Bhutanese brothers and sisters and their efforts to share Jesus Christ with those around them. Pray that God will move among the authorities and open hearts to hearing His name and the words of His people.
For more information about the treatment of Bhutanese Christians, visit Bhutan Country Report.