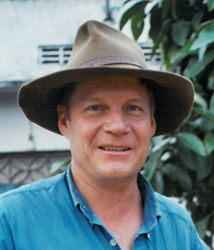 Russell Stendal
Last week, we requested prayer for Russell Stendal, a good friend of VOMC who was arrested on false charges in Colombia. Although Russell had only 10 minutes to speak his case, the judge believed our ministry partner and stated that the prosecutor had wasted her time. The case has since been thrown out and Russell is completely absolved.
As a result of his ministry efforts, Russell has faced many struggles, including being taken hostage several times by both members of guerrilla groups and paramilitary forces. He has also mourned the loss of numerous friends who have been killed as a result of their ministry work. One of these dear souls was Pabel, a missionary associate of the Stendal family. The 33-year-old evangelist was brutally murdered in November of 2014, leaving behind a grieving widow and two young children. (For more information on this tragic incident, visit our previous prayer alert.)
In regards to Russell's recent acquittal, we can praise God for this wonderful answer to prayer! May the Lord continue to guide and sustain Russell and his family as they minister amid much difficulty in Colombia. Ask Him to bless and multiply their evangelistic efforts so that many thousands more may come to salvation through hearing the Gospel message. Also continue to lift up Pabel's family as they grieve. May they deeply sense the Lord's abiding presence in their lives and experience His provision for their every need. Additionally, pray that the strife among the various political groups of this country will cease so that lasting peace and stability may reign.
For more information on the struggles Christians face in Colombia, read our Country Report.