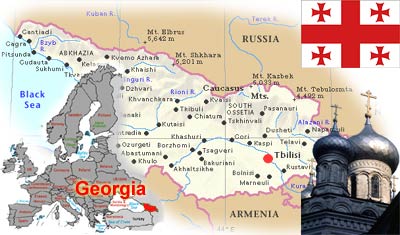 Evangelical believers in Georgia have been accustomed to attacks in recent years, often as a result of instigation from a defrocked Georgian Orthodox priest, Vasily Mkalavishvili. After he was sentenced to six years in prison for his actions in February, the violence subsided. According to press reports, however, harassment has picked up again this month against evangelical believers. Pastor Nikolai Kalutsky reports that members of his congregation were blocked from attending services at his home on April 28 and then on May 12 and 13. Some members were also beaten outside a subway station after the May 12 service. Pastor Kalutsky credits extremists from the dominant Orthodox Church for the attacks.

Sozar Subari

According to a report just received from Forum 18, Georgia's Constitutional Court ruled earlier today that these attacks have violated Pastor Kalutsky's rights to practice his faith freely. The Liberty Institute, along with Georgia's Human Rights Ombudsperson, Sozar Subari, claims that an Orthodox priest, David Isakadze, is responsible for instigating the attacks. Subari is pushing for criminal charges against Isakadze. The priest has publicly denied any involvement.
Forum 18 also reports on similar opposition to Pentecostal and Baptist congregations in other areas of Georgia. In the village of Orsantia in Zugdidi district, the head of the village administration demanded to see a document giving a Pentecostal church the right to hold services. No such official document exists in Georgia. Until such documents are produced, he warned them, all services were banned. Baptist Pastor Levan Akhalmosulishvili also reported incidents of harassment from Orthodox mobs in at least two other villages. He notes, however, that the harassment has been strictly verbal, saying, "In the past they used to beat us, but now they've been well trained to insult us but not to touch us."
Since 2002, only the dominant Orthodox Church was legally registered with the government. Despite opposition from the Orthodox Church, amendments were officially passed in late April allowing the registration of other religious groups should they so desire. The amendments also removed the requirement for religious groups to be officially registered. Despite these amendments, Forum 18 reported on May 24 that there has been little practical change as a result as religious minorities continue to be harassed. Part of the reason may be a popular opposition to such groups in the country. In a 2004 survey, nearly forty-seven percent of those surveyed supported the destruction of literature of religious minorities and only ten percent would defend the rights of religious minorities.
Pray for that the country of Georgia will fully open up to religious freedom. Pray for those believers facing ongoing harassment because of their faith.