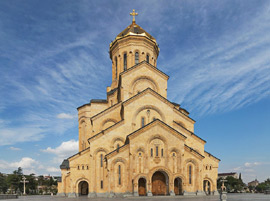 Despite assurances that freedom of religion is guaranteed, various statements from Georgia's ruling party, along with those from the State Agency for Religious Issues (SARI), indicate that a restrictive religion law may be in the works for the nation of Georgia. Many religious groups strongly oppose such legislation which would mandate government registration of their faith communities.
The government agency, SARI, has long awaited a religion law to help control religious issues in the country. A primary concern expressed by those from non-traditional faith groups is the lack of clarification regarding the requirements of the new law.
Over the years, the Georgian Orthodox Church has retained special status within the country. Its spokesperson, Archpriest Jaghmaidze, suggests one criterion for registration could be mandating "some kind of cultural and historical heritage," which would restrict new religious communities from entering the country. Further concerns were raised when he spoke of other religious groups having "anti-state activities or positions."
Overall, many proponents of the new religion law consider its implementation a means of restricting other faith groups from registering as a religious community. In contrast, Pastor Guram Imerlishvili argues that the law should instead be focussing on the punishment of hate crimes and the enforcement of existing legislation, rather than creating categories that will distinguish non-traditional religions from those that are traditional.
While such legislation is only at the stage of deliberation, pray that Georgia's governmental agencies and representatives will fairly consider all sides of the discussion. Pray that freedom of religion will continue being made available to all, without partiality. Ask the Lord to guide the words of those who are seeking to raise their concerns. Despite the present religion law debate, may there be an ongoing spread of the Gospel throughout the nation.