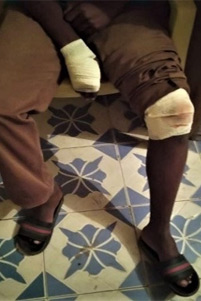 A Christian man named Hassan and his widowed mother, who were both living in Ngong, located on the outskirts of Nairobi, have been facing constant pressure to recant their Christian faith and return to Islam. Pressure has included threats, bribes and beatings on several occasions. On January 19th, Hassan was arrested. The police officers, along with two others, then severely beat him -- knocking out teeth and causing leg, chest and back injuries.
The two believers fled Somalia after the death of Hassan's father and went to Kenya, hoping to find a safe place to lead their new Christian lives. However, pressure from militant Muslims in the local community, including family members, has resulted in years of suffering. Hassan's mother said, "I have suffered several persecutions from the Muslims for converting to Christianity. My stomach is ailing from the attack I suffered a few years ago. I cannot stand in an upright position. Me and my family have chosen the cause of Christ. No turning back."
Remember these two dear believers as they suffer great hardships for Christ. Pray for the healing of their wounds, and that their hearts will be filled with patient endurance (Revelation 3:10). Also lift up their attackers in prayer, asking that they will experience the grace of Christ and turn to faith in Him.