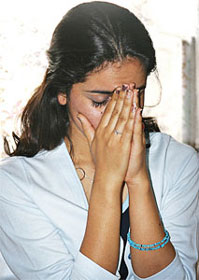 This Christian woman from the Middle East
continues to pray despite the risks.
Three Christian women were killed by their Muslim family members in separate incidents on April 30th and May 1st.
A 38-year-old woman was shot to death by her two brothers shortly after they learned that she had been talking with a missionary over Skype (an online instant messaging program) and that she had a Bible. In a second incident, a man stabbed his 22-year-old sister to death when he caught her with a Christian CD. The Christian woman had previously talked with her brother about Jesus. The brother left her body in front of a hospital before seeking treatment for his own hand wound. In the third incident, a man beat his daughter to death by hitting her on the head with a stone. He turned himself over to police and confessed to the killing, knowing that he would likely not face serious punishment. He reportedly told police that his daughter had continued to attend church despite his warnings.
Please pray for those impacted by the loss of these dear sisters in Christ. May God surround those who are mourning with His love and peace. Pray, too, that He will use the legacy of these women in a powerful way, inspiring many others to learn more about Him. Ask especially that the family members who so tragically ended these lives will repent, turn to Jesus and, in time, become bold disciples of our Lord.