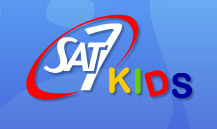 A United Kingdom-based charity, known as Sat7, which focusses on broadcasting the Gospel in Arabic to the Middle East and North Africa through an engaging television series, has reported that over nine million children are tuning to the SAT-7 KIDS programming. The television program is imparting truths, positive values and education to children in a fun and engaging way while making it possible for them to learn within the safety of their own home environment. It is invaluable to parents who are seeking a trustworthy source of Christ-centred entertainment and education within their homes.
The executive director of SAT-7 KIDS says of the report findings: "It is very encouraging, but it really is the hand of God. Our KIDS team is so terribly small and we are working with a very small budget." Additionally, the channel's programming manager adds: "They say that with a million people, you can change a country. With nine million, you can change a whole region."
In spite of the challenges, SAT-7 KIDS is always seeking to take the programming one step further by improving its interaction with viewers. There are two live weekly programs that currently elicit a lot of direct responses from the audience because viewers can call in and talk to the hosts.
Last December, a fresh interactive website launched for SAT-7 KIDS. The channel's presence on Facebook and YouTube also lets viewers comment on shows. Overall, the number of responses has quadrupled in the past three years.
One Iraqi girl states: "Please pray that I will keep Christ in my heart and never leave Him for any reason. This request is not only for me but it is also for you and for everyone on this earth...." The mother of another child in Iraq also appreciates the ministry: "My daughter is six years old. She is always watching these programs. Please send us more Bible stories."